Welcome to the Class 5 page...
Welcome to the Class 5 page. Take a look at what we have been learning and if you want to leave us a comment then please do so...we'd love to hear from you!
.
W/C 27/11/17
In Numeracy this week we have been learning about fractions. To begin with we looked at finding fractions of whole numbers. We now know how to divide by the denominator and multiply by the numerator. To practise our new skills we and to work out problems for King Hrothgar who was holding a feast at Heorot. We really enjoyed this. We then moved onto equivalent fractions and remembered that equivalent means the same. During our maths activities we had to find equivalent fractions from given numbers and used our times tables knowledge to support.
In Literacy we received a letter from Michael Morpurgo who needed our help. He has asked us t help him write a new legend as his Beowulf was a huge success. Over the next week he is going to set us a series of tasks focussing on characters, settings, opening, problem, resolution and ending. We have enjoyed creating our own hero/heroine characters this week and we have tried very hard to use exciting and descriptive vocabulary.
In topic a strange Viking called Ingwar Silvertongue contacted us as he wanted knowledgeable warriors to accompany him on his next Viking raid to Lindisfarne. To prove that we were good enough we researched Viking raids and found out facts about them. We learned that Vikings were cruel and mean and they would not think twice about attacking monasteries because monks were weak and did not have any weapons. He then set us a challenge to come up with a Viking battle plan to help with the attack. We were sent information packs and we had to investigate what we could take on our long boats; however there were certain guidelines we had to follow. We really enjoyed this and we are looking forward to spending time on them in topic lessons.
This week's spellings for class 5 are:
vicious, gracious, spacious, malicious, precious, conscious, delicious, suspicious, atrocious and ferocious.
The children have been practising these this week in spelling and need to practise them at home too. The spelling test for these will be on Monday.
Well done on another super week Class 5. Keep up the hard work!!
Miss Murphy
W/C 20/11/17
This week Year 5 have been working very hard and completing their assessments. Everyone has tried their best and given 100%. Well done Year 5!!
In Numeracy this week we have been looking at multiplying by 10, 100 and 1000 including decimals and the different rules we can use to help us. We also looked at long multiplication and division using written methods. Some of us found it a little tricky to start with but we persevered and with a bit more practise we got the hang of it. We are now looking at how to apply our knowledge to word problems and assessment questions to help us.
In Literacy this week we recapped what happened in the battle between Beowulf and the Grendel. We picked out lots of excellent vocabulary which described the vicious and ferocious battle. We then used this information to write a diary entry from Beowulf's point of view. The children planned their diaries out and thought about the different points they would like to talk about. They knew that in a diary thoughts and feelings were very important. The children used their plan to write their diary about the battle. Once they were complete we then looked at different ways we could edit and improve our work.
In topic we looked at the different types of food that Vikings ate and grew. We learned that a lot of them had their own allotments and mini-farms in which they grew their own crops and looked after their animals. We then looked at the ingredients we would need to make a sensational stew for a Viking. The children helped to prepare the stew and we cooked it and tasted it. It was delicious!! From this the children wrote a set of instructions to accompany the stew.
From next Monday we will be having a weekly spelling competition in Year 5. Each week the children will be given a list of ten spellings to practise at home. The spellings will also be on the class page on the website. There are Dojo points, stickers and prizes up for grabs. Remember to practise them at home!
Well done year 5. Keep working hard!!
Miss Murphy
W/C 13/11/17
This week Year 5 have been working very hard and completing their assessments. Everyone has tried their best and given 100%. Well done Year 5!!
In Numeracy this week we have been looking at prime numbers and enjoyed learning a song to help us remember. https://www.youtube.com/watch?v=AikMFJRQ7TY. Remember to keep practising at home. We also looked at factors and multiples of numbers and how we can use our knowledge of times tables to help with this.
In Literacy this week we read all about the battle between Beowulf and the gruesome Grendel. The children enjoyed listening to the destroyer came to an end. We have started looking at recount texts and focussed on diary entries. Next week the children will be writing a diary entry as Beowulf to recount the events that took place at the battle. They will be thinking about how Grendel died and any thoughts or feelings that Beowulf may have had. To help us with this we looked at the different features that a diary entry needs to have and highlighted these in some examples. WE looked at a variety of different examples from a school diary to an extract from Anne Frank's diary. The children enjoyed this.
In topic we used paper plates to make our own Vikings shields. The children looked at the different designs that Vikings used and decided that they were simple and basic. The then created their own. All the children had their photograph taken for our display and were magically transformed into Vikings. It looks fantastic however they don't look very vicious. We also used a paper model to construct our own Viking longboat. We had to concentrate as there were hill folds to look for and particular lines to score and fold. Look out next week for photographs of our finished product.
Well done year 5. Keep working hard!!
Miss Murphy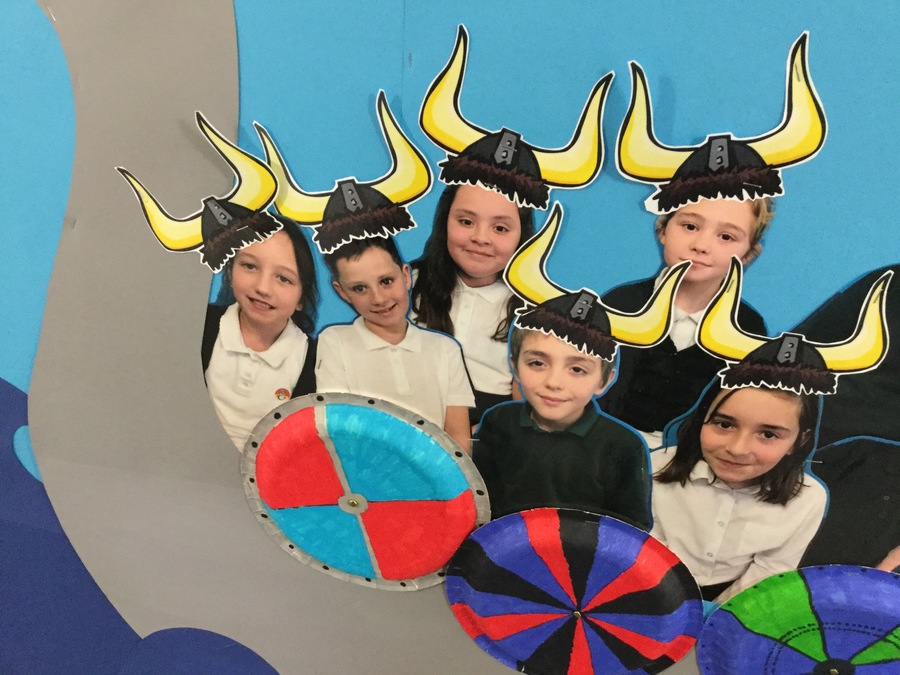 W/C 23/10/17
This week in Numeracy we started the week looking at perimeter and area of compound shapes. In the beginning we found it a little tricky but we persevered with it. We then moved on to converting length. Some of us focussed on cm to m, some looked at mm to cm, cm to m and m to km. They all worked hard this week in Numeracy and all the children gave 100%.
In Literacy this week the children remained in character as Beowulf. It is coming closer to the battle between the evil Grendel and brave Beowulf and the children are very excited. This week in Literacy we finished performing our speeches at the start of the week. We then moved on to looking at informal letters. To begin with we looked at the different features we needed to include and picked an example text apart and labelled it. We found out that informal letters are sent to people who we know so we can use chatty and friendly language. The children were then set the task to write a letter to their father to inform him that he had arrived safely and give him details of what he had done since arriving in Denmark at Heorot. The children wrote some fantastic letters and tried really hard to include the different features. Well done Year 5!
In topic we continued looking at Vikings and their long boats. At the beginning of the week the children had to research and design the front of their boat, the sail and the shields. From their research and designs they had to choose a final design and consider how they might make it and what materials they might use. After the holidays we are going to have a go at making prototypes for the shields and sails to see which works best. We also looked at a Viking longhouse and compared how different they were with our houses. We found that they were very different and lots of people lived together in one room. The children then had to write an advert to sell a long house and include the different features that made it unique. The children had lots of fun with this.
Some of the children in Year 5 enjoyed KS2 craft afternoon with their parents on Tuesday. There were lots of different activities such as making a paper plate mask, dangling spooky ghosts, paper cone witches and more. They had lots of spooky fun with this. Thank you to all the parents that took part.
Well done year 5. Keep working hard!!
Miss Murphy
W/C 16/10/17
This week in Numeracy we have been looking at solving word problems using the four operations. We have been working hard to highlight the information we need to help us solve the problem. We have used the process 'Think about the word problem' to help us. The children worked very hard on this and we will keep practising so can keep improving. Following on from Literacy last week the children remained in character as Beowulf. We found out that during Viking times they would prepare boasts before they went into battle. These would be announced the night before to fill the warriors with confidence. The children took on the role of Beowulf and had to write a motivational speech which they would present to their warriors in the Great Mead Hall. They had to think carefully about how they would persuade their army to come and join them in the battle against the evil beast Grendel. The children focussed on using powerful vocabulary. All the children had fun performing their speeches to the class. Keep an eye on the website in the coming week and we will post some for you to have a look at.
In topic we have continued to look at Vikings and their daily life. We focussed on a Viking family and the various jobs they had to carry out on a daily basis. The children were very surprised at some of the jobs the children had to do. Following on from our introduction to Viking longboats we began our Design Technology topic of making our own boats. This week we have focussed on researching different types of longboats and we looked at similar characteristics on various types. We found out what they were made from and what they used to make the sails and strengthen them to withstand storms at sea. We learned lots of interesting facts that we didn't already know. E.g. Did you know that they used the fats from animals to make the sails strong and waterproof?
Well done year 5. Keep working hard!!
Miss Murphy
W/C 09/10/17
This week in Numeracy we have been looking at place value and different aspects of it including comparing and ordering numbers, rounding to the nearest 10 100 and 1000 and Roman Numerals. We had lots of fun looking at Roman numbers. In Literacy we were sent a Wanted poster from King Hrothgar advertising for a hero to kill the bloodlust beats Grendel which has been terrorising his kingdom. We pretended to be Beowulf and wrote a letter of application to say why we would be the best hero for the job. We looked at the different characteristics that we thought a hero should have e.g. selfless, strong and be able to defeat evil to name a few.
In topic we began looking at Vikings and when they arrived in Britain. We looked carefully at the different routes they took to get to England and where they settled. Towards the end of the week we looked at how they travelled and found out lots of interesting facts about Viking Longboats. We had a go at designing our own by looking at the different features they had. E.g. dragon carved head at the front and back to scare off enemies and having shields on the side to protect people on board.
We also enjoyed our first trip onto the new school library bus. We were amazed at how many lovely books were waiting for us to read. We are all looking forward to our weekly visit to relax and read.
Well done year 5. Keep working hard!!
W/C 02/10/17
This week in Numeracy we have been looking at adding and subtracting fractions with the same denominator. We learned that if the denominator is the same we add and subtract the numerator normally. We then moved onto adding and subtracting fractions with multiples of the same number. E.g. 3/6 + 4/12 =. We learned that we need to find a common multiple and make the denominator the same. Some of us found this a little tricky to begin with but we stuck with it. In Literacy we have been very creative and used our imagination to design our own mythical creatures. We have been thinking about their appearance, personality and how they behave, where they live and their family history. We had some fantastic ideas and the children are continuing to try and upscale their writing by using a thesaurus.
In topic we learned about how and why the Anglo-Saxons used illuminated letters. We all had a go at designing one for the first letter of our names. We had lots of fun doing this. Below are some examples. We also looked at the types of foods that poor Anglo-Saxons ate compared to rich people at an Anglo Saxon feast. We much preferred to live like the rich as they had more variety.
Well done year 5. Keep working hard!
W/C 25/09/17
This week Year 5 have had a very busy week. In Literacy we have been learning how to write a good character description. We focussed on Grendel the Monster from our class story 'Beowulf'. All the children have been trying to improve their choices of words using a thesaurus.
In topic we became History detectives and looked at the Mystery of Sutton Hoo. We talked about the various objects that were found there and how they might give us clues as to who was buried there.
WE have been having fun with our times tables by playing a game of 'Hit the Button'. The children have enjoyed setting themselves a target to beat. They can access this at home to practice their skills.
https://www.topmarks.co.uk/maths-games/hit-the-button
Keep up the hard work Year 5 !!!
W/C 18/09/17
This week Class 5 have been working very hard. We have started looking at the story of Beowulf and the children really enjoyed describing Grendel's lair.
In our topic we have been finding out about Anglo-Saxon life before the Vikings invaded. The children enjoyed looking at an Anglo-Saxon village and finding out about how they lived .
W/C 11/09/17
Welcome back Class 5 I can see you have all had a fun summer and are all well rested. We are going to have a good year and work very hard!!
I hope you are all looking forward to our new topic Vicious Vikings
Miss Murphy and Mr Poxton
W/C 17/07/17
This week we have enjoyed a visit to the Science and Media Museum in Bradford. We enjoyed exploring the museum, especially the Wonderlab and the Light it Up Workshop. We were given the opportunity to watch a 3D educational film about 'Our Beautiful Planet' and what it is like in Space. We had a great day.
We got the chance to visit Outwood Academy at Shafton on Thursday. We took part in the Olympic Day and got to experience different lessons at high school, such as French, English, ICT to name but a few. We were very impressed with the fact that we could have
pizza for dinner.
W/C 10/07/17
This week we have enjoyed writing our own introductions and conclusions for our biographies about Dr Kalmenius from Clockwork. We have used our imaginations well and included all the features of a biography.
In maths we have learnt how to make a pie chart and put our sports data into these charts. We have then done some reasoning about different pie charts in order to work out the angle or the quantity.
We really enjoyed dissolving substances and filtering to try and separate the solutions in science. We were really surprised when the water came out clear.
We were all very enthused about sports day and were very competitive against each other. Well done to all the children who took part.
W/C 26/06/17
This week we have started to look at biographies. We have looked at a selection of biographies and have located key features in these. We have ordered a biography about one of the characters from Clockwork in chronological order and had a go at hot seating to find out more about another character. Next week we will start writing a biography about this character.
In maths this week we have linked our maths work on data handling with National Sports Week. We have conducted lots of tests over the week and plotted graphs based on this.
We have enjoyed our transition morning in year 6, and are excited about furthering our learning next year. We had a go at a Year 6 arithmetic paper and we got some good scores.
W/C 19/06/17
This week we have been trying to edit and improve our work in literacy. We have learnt about the radius, the circumference and the diameter of a circle and worked out the measurements from a selection of objects in maths.
We have been learning about spending our pocket money in French and learnt how to count from 20 to 30. The children are really enjoying learning a new language.
In science we have planned and conducted experiments linked to dissolving powders in different temperatures of water. We predicted what we thought would happen and designed our own method of recording.
W/C 12/06/17
This week in year 5 we have continued our work on play scripts. We changed our stories to have a focus on dialogue (conversation). We have tried to improve our writing by making sure we have included things such as modal verbs, brackets for parenthesis, active and passive voice.
In maths we looked at increasing the size of a shape by scaling, and translation where we move the shape from one place to another.
We really enjoyed the talent show on Monday, and we are really proud of our girls who entered. The dance group 'Shining Stars' took third place, and Jennifer came joint second with her magic show. Well done girls for taking part and showing us all your fantastic talents. Hopefully next year now, you may have persuaded the boys to take part too.
W/C 05/06/2017
This week in literacy we have been looking at play scripts. We have read a few and had a go at writing an argument into a play script. The argument was about a young girl wanting to go to town with older girls and her Mum not wanting her to go. The children came up with reasons for and against her going which also touched on some P.S.H.C.E. The children have then edited and improved their arguments.
In maths we have finally cracked rounding. It has taken us a while to get to grips with this but we have now got a good understanding and have been able to use this knowledge to help us answer word problems involving rounding.
In science this week we have started to look at materials and their properties. We have looked at key vocabulary, then carried out tests to help us identify the properties of materials. We tested for permeability (whether water can pass through it), transparency (whether it can be seen through or not), flexibility (how bendy something is), magnetism (if it attracts to a magnet) and hardness (whether it could be scratched with a nail). The children recorded their findings in a table.
In French we have learnt how to say the foods in a salad and whether or not we like them.
W/C22/05/2017
This week was assessment week, and we all gave 100% effort to make sure we showed all the things we have learnt over the course of the year.
We would like to give special shout out to Anthony and Warren who have proved that they can do it and have worked really hard this week trying.
We finished the stories we were writing this week. We found writing a problem and resolution tricky but used the story 'Clockwork' to help us with our ideas.
In French this week we have been learning about animals and describing how they move.
We had a great time when the Paralympian came to visit us. She told us about her injury from when she was in the army and how she now trains very hard because she is a competitor in the Invictus Games. She had a positive message for us that we have used this week 'I can do it.'
W/C 08/05/17
This week year 5 have been writing stories about mystery and suspense. We have read the story Clockwork by Philip Pullman and we are using it as a model to write our own .
In maths we have been continuing our work on area and angles . We have been using a protractor to measure angles and had a go at drawing our own . We have then worked out the missing angles.
In creative curriculum we have continued our work about Europe and had a go at making a fact file about a European city. We have started to learn about the lines of latitude and longitude and also carried on with our French studies .
W/C 03.04.17
This week Year 5 have been writing Haiku's about spring which are Japanese poems based on the number of syllables in each word. We have then had a go at writing a cinquains which follows a similar idea.
In maths we have been reading, plotting and interpreting line graphs and 2 way tables.
We have continued our learning about the Buddhist religion and have even had a go at meditating to understand how the Buddha felt finding inner peace. We then linked this to the mandalas which are an artist's impression of the imaginary place you go to when meditating. We have built on our artistic skills by drawing the Buddha's face and using oil pastels to add colour.
W/C 27.03.17
This week we have been on a walk around school exploring the theme of Spring. We have enjoyed art week an have used watercolours to create pictures of Buddha.
W/C 20/03/17
Year 5 have been busy undertaking assessments this week to track our learning in maths, reading, writing and GPS. We have all tried really hard with our tests and were then rewarded with interactive science experiments and fun in the afternoons.
This week has been science week. The theme has been about 'change'. We experimented by making an irreversible change using liquid latex rubber and vinegar to cause a reaction which helped us make bouncy balls of our own. We then tested them to see how well they bounced. We had lots of fun but did complain a little about the vinegar smell. Next time we will try lemon juice.
We have also experimented with colour and then made slime. This is our favourite experiment in class 5. We love manipulating the cornflour and water solution and seeing the change when we stop manipulating it and no pressure is applied.
We have then made some posters to enter into the British Science Week competition which highlight a change. We have had some good ideas and are keeping our fingers crossed that one of them will be a winner.
Finally, to celebrate Mothering Sunday we have made our Mum's a card to show our love.
W/C 13/03/2017
This week year five have been busy finishing writing up their arguments about why people live in Haiti. We have studied abstract nouns and used these to write descriptive sentences.
In maths we have been working out the volume of cuboids and then extended our learning by looking at cuboids with parts missing and worked out the volume of these 'L shapes'. We have also covered scaling a shape to make it bigger and been working on our understanding of word problems linked to measure which has involved us converting between different units of measure.
In creative curriculum we have been furthering our understanding of the Buddhist religion, and the steps taken to enlightenment using the 8-fold path, we have thought of examples of how we fit on the 8 fold-path with different actions we have chosen or how we have done something which does not support this.
We have started reading The Butterfly Lion by Michael Morpurgo in guided reading and have been answering questions linked to this.
We really enjoyed the book swap and all the children were excited about their new books, (so excited that they started reading them straight away).
Ella declared 'This book swap is amazing!' When she was asked why, her answer was 'Because there was just so much choice and some really good books.'
We have learnt a new song in singing assembly this week 'Counting Stars by One Republic' which we loved.
WC 06/03/2017
This week Class 5 have been busy learning about earthquakes, the story of Buddha and programming algorithms into the computer.We have been writing our own arguments about why people choose to live in Haiti when they are so exposed to natural disasters.We have been rounding whole numbers and decimalsto 1 and 2 decimal places
Comments (0)
There are currently no comments.