Early Years Foundation Stage...
Welcome to the EYFS class page. Take a look at what we have been learning and if you want to leave us a comment then please do so...we'd love to hear from you!
W/C 05/03/18
This week we have been very busy in the EYFS
We watched a scientist talking about forces and even joined in with some of the experiments.
We have visited the farm and looked at all the animals.We even went on an egg hunt and looked at the eggs in the incubator that will be hatching soon. We cannot wait to see the baby chicks when they have hatched.
Our parents and carers came in on Friday for World Book Day and hey read us some lovely stories and helped us to make lots of exciting things.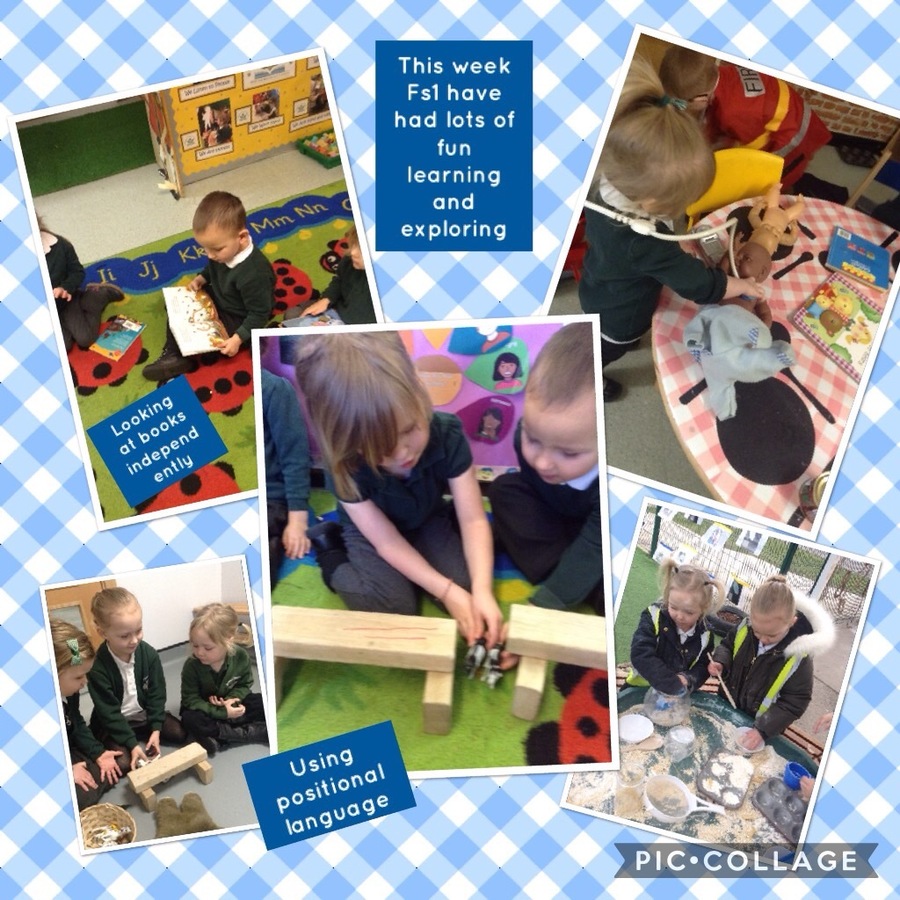 W/C 05/02/18
This week in the EYU we have been on the reading bus and explored some exciting books, our favourite was Supertato but we enjoyed lots of different stories. In provision we have been creating some valentines crafts and looking at height and length in different ways.
W/C 29/01/2018
This week in the EYU we have been reading the gingerbread man and creating our own in the creative area. We have also been making gingered men in play dough and weighing them to see which is heavy or light.
We have also become superheroes to help us do some super writing, looked at Obb and Bob to work out real and alien words and painted some of our favourite Disney characters.
W/C 22/01/2018
This week in the EYU we have been looking at different ways to use time, including, drawing hands on clocks, talking about our daily routine, using timers and stopwatches to test how many jumps we can do and our favourite "what time is it Mr wolf?".
We were lucky on Friday as some children made the unit jam sandwiches!
If you have any empty containers please bring them to school so children can build with them, thank you.
W/C15/01/2018
This week in the EYU we met Smartie the penguin and his daddy who showed us how to stay safe online. We listened to his story and learned the song to help remind us. We then coloured in some pictures and wrote some sentences about what he told us.
We have also been acting out some traditional stories in the small world area which has been very fun!
If any parents/guardians have any empty cartons they can bring in next week this would really help with something special we will be making!
W/C 08/01/18
A big welcome back to school this week! Our children have come back with lots of enthusiasm and are ready to learn. We are looking at Disney and traditional tales this term and the early years unit is full of fantastic things to chose from. This week the three bears visited and left some porridge for us to weigh, find hidden words in and set up the dinner table. Outside, our house has turned into a sweet house from Hansel and Gretel for us to retell stories, we have found some turnips in our mud kitchen we hope will grow enormous and we have been constructing bridges to help the three Billy goats across!
This week maybe you could read any traditional tales you have at home with your children and they can share them with the class.
W/C 11/12/ 17
This week in the EYU we took part in our Christmas sing a long. We all did a fantastic job and our grown ups were very proud. In class we have been watching and reading about the Christmas story and talking about why we have Christmas. We have also enjoyed using the weighing scales to weigh presents for Santa's sleigh!
W/C 27/11/17
This week in the EYU we have been practising for our Christmas sing a long. We are really excited to show our grown ups how good we are and wear our Christmas jumpers!
Maybe you could practice with them at home this week so you are ready to join in on the 11th.
W/C 20/11/17
This week in the EYU F2 have used cups to work out maths stories in our group time, working with partners.
We have also been experimenting changes by making play-dough, feeling icy water to see how cold it was in the Ice age and visiting the farm looking at how tomatoes grow.
Maybe this week you could look at some changes in the environment whilst you are out and about such as the weather.
W/C 13/11/17
This week the EYU have been looking at ice-age animals. We made paintings of mammoths, used stones to make caves, made cave men drawings outside and found ice cubes in our water tray which we observed melting!
We have also been busy making Pudsey Bear pictures and enjoyed our spotty face paints for Children in need.
W/C 06/11/17
This week the Early Years Unit have been looking at photos from our dinosaur trip and made some of our own books retelling what we did! We have made some beautiful poppies and talked about why we have them in group circle time.
We have also had a visit from some special animals but you will have to wait till next week to find out who!
W/C 23.10.17
This week we have been enjoying some Halloween crafts and activities in the EYU. We are looking forward to Halloween fun day on Friday. We would like to take this opportunity to thank all our staff, children and parents for their hard work and perseverance this half term.
During the holidays don't forget to complete your purple holiday diary! We are looking forward to seeing all that you have been up to this holiday!
W/C 09/10/17
This week some of the children from the EYU have been to the farm to see what a vet does. They watched the vet look at one of our goats who had a poorly foot. The vet gave the goat some medicine.
Maybe when this week you could talk to your child about the different occupations people have. A Firefighter, A policeman or a shop keeper. As always we welcome any pictures or work from home.
W/C 02/10/17
We have been reading in the early years this week. We have been thinking about what sounds we can hear at the beginning of words. We have even been attempting to write them! We have been using our pre-reading skills to read familiar logos and signs.
Maybe when you are out and about this weekend can you could help your child to spot letters and familiar logos to enhance their reading skills.
W/C 25/09/17
We have enjoyed our Dinosaur topic. We found some T-Rex footprints in our outdoor area so have been investigating Dinosaurs in books and on the internet to find out what they are called and what is special about them.
W/C 18/09/17
This week Nursery have been to the farm and to harvest some of the vegetables grown. They picked sweet corn, tomatoes and green beans. We tasted some of them and they were yummy!
W/C 11/09/17
Welcome back! In Early Years this week we had lots of fun making new friends and finding out all about the different exciting thing that we can do at school.
w/c 3rd July
This week we came into the unit to find pants everywhere! Spotty pants hanging from the ceiling, small striped pants on the door handles and even brightly coloured pairs in the shrubs outside! There was a pile of pants to wash outside in the water area and our fruit shop role play outside had been turned into a spaceship! We think the aliens from the story "Aliens love underpants" must have flown over and dropped them.
W/C 26th June
This week in the EYU we have been learning about how astronauts eat and drink in space. We tried to drink like we were in space and drank some alien blood and moon juice (which was just smoothie really).
Nursery Children moving into Reception in September also stayed for lunch for the first time! They love it and were brilliant at using a knife and fork.
W/C 19th June
This week we said goodbye to our froggy friends. Morning and Afternoon Nursery released them into the pond at school so we are hoping to see them again next year when the spawn.
In the unit we have received a letter from the Smartest Giant in Town who wanted us to help him learn about space. We have read lots of books and looked on the internet to find out more about Space. We have draw pictures, wrote letters and build models to show the Giant.
W/C 12th June
This week we continued to learn about The Smartest Giant in town but then one of our children became interested in space. As the week progressed more and more children became interested in space so we are now writing to the Giant to tell him about space. Take a look at some of the things we have done this week...
W/C 5th June 2017
When we came back to school we found that our tadpoles had turned into frogs...110 of them! Miss Beckingham and Mrs Dronfield cleaned them out and counted them. We were so surprised to have over 100! When they grow a little bit bigger we are going to take them down to the school pond and release them.
W/C 22nd May 2017
This week we have noticed our tadpole have turned into little frogs! We have put some rocks in the water and logs so the frogs can jump around. Up to now we have counted that 4 have changed. We are looking forward to coming back after half term and seeing how many have changed!
W/C 01st May 2017
This week we have been watching our tadpoles closely. We have noticed lots of changed and the fact they are getting really big now! Take a look for yourselves...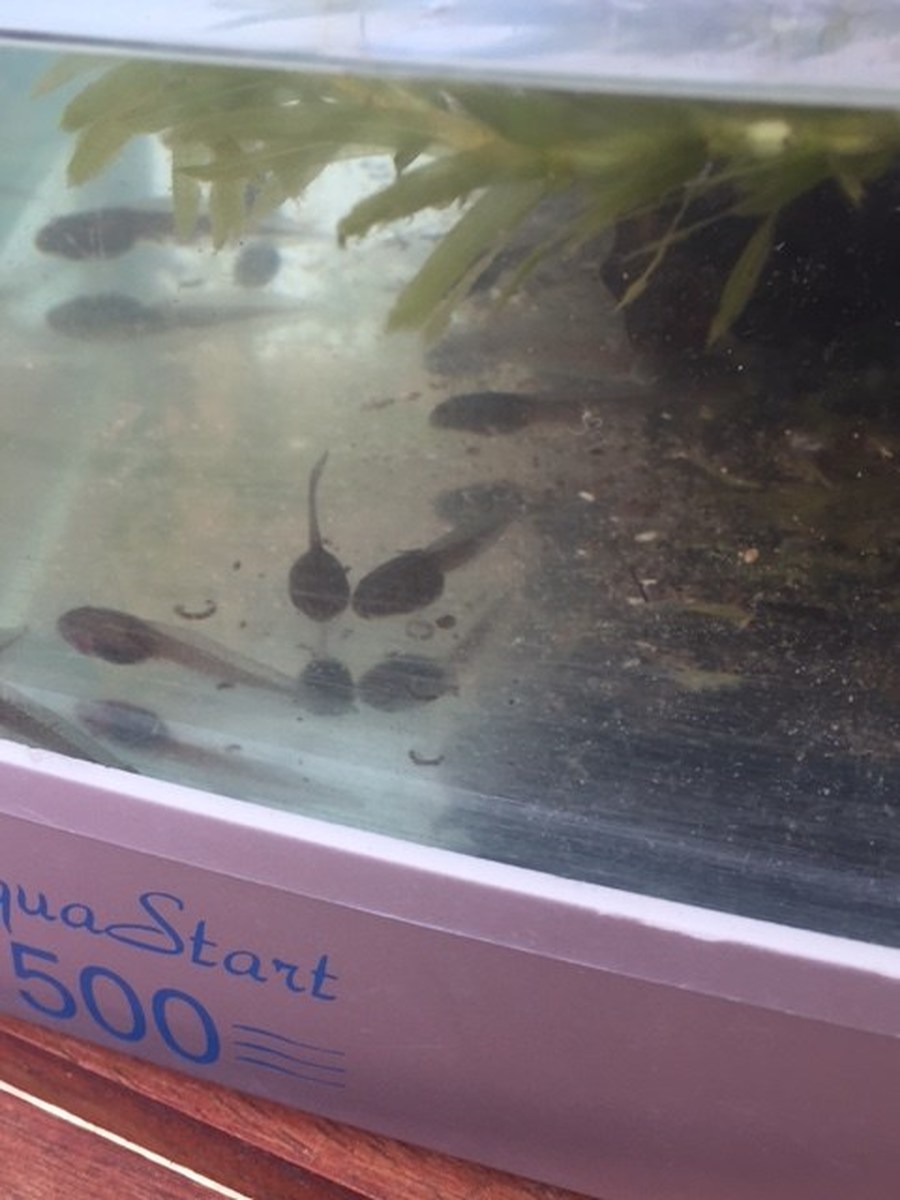 W/C 24th April 2017
Welcome back everyone! F2 have been really busy this week. They have started their transition process into Y1 by coming into school via the cloakrooms themselves! Everyone had a go at this, even though it was a little bit scary. Today children have enjoyed looking through our new home reading books in the library. Happy Reading.
W/C 03rd April 2017
This week as part of our Easter activities we have made crispy buns. we enjoyed mixing the chocolate and rice crispies together... and we even licked the bowl after we had finished! We then put the buns in the fridge to go hard! Happy Easter everyone.
W/C 27th March 2017
This week we have had a very busy week. As part of our topic we have been learning how we can keep healthy. We wrote shopping lists for ingredients to make smoothies. We then went in groups to ASDA to buy our ingredients. when we got back we drew pictures and wrote letters about our walk and what we bought from ASDA. Then we made the smoothies and sold them to parents.
W/C 20th March 2017
This week has been science week in school and we have been learning about changes in animals. Mrs Dronfield brought some frogspawn into the unit and we have been watching it closely. During the week the tadpoles hatched from the eggs. We are excited to see what will happen next.
W/C 13th March 2017
This week in F1 & F2 we have been looking for 2D and 3D shapes. We used the I-pad to capture the shapes we found around school. Our homework this week is to look for 2D and 3D shapes at home and in our local environment.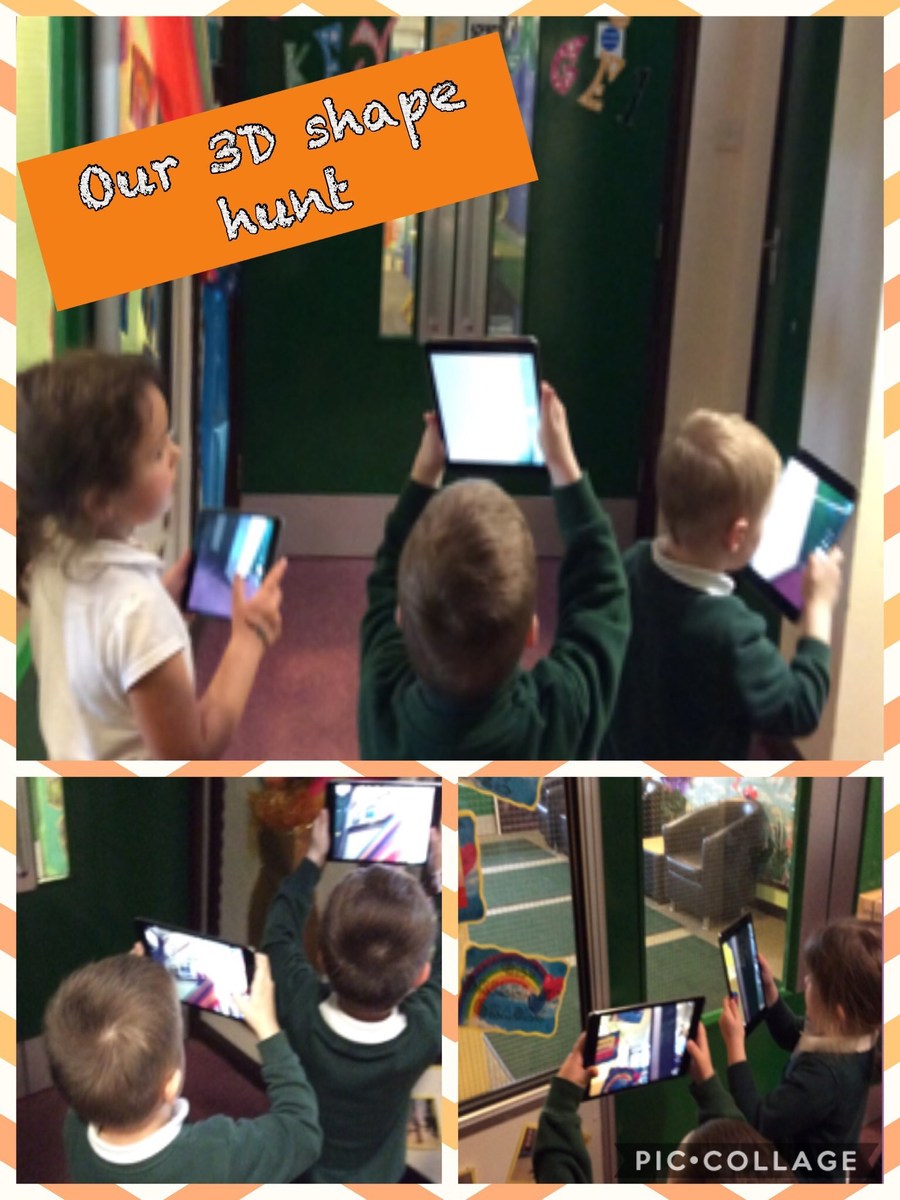 W/C 06th March 2017
This week we are very proud of some of our F2 children as they have moved onto red ditty books in RWInc. To add to that ALL of our F2 children have started writing in RWInc. books with lines and MMS books with squares - something we don't usually do until after Easter but these children are ready and raring to learn! Well done everyone in F2.
W/C 27th Feb 2017
This week F2W and F1AM have started their sessions at the Community farm. They have had a great time meeting the animals and watching how Miss Hall cares for them.
Comments (1)
Show Comments
Sarah-Jane Tooley
(less than a year ago)
It's lovely to see what Jake has been doing at school each week. He particularly liked the frogs and couldn't wait to show me them when they were outside.