Welcome to the EYFS class page. Take a look at what we have been learning and let us know what you think.
w/c 20th May 2019
We would like to say a massive thankyou to the parents who came to help us weed, sweep and paint our outdoor learning environment. A special mention to Mr Trickett and Mr King who moved 1 tonne of pebbles on a very, very hot day! We can't wait to come back after the holidays and learn in our outdoor learning space.
w/c 13th May 2019
This week when the children arrived at school found a mysterious box shape outside the classroom. There was steam coming out of the top of the shape and there were funny rocks around it. The children and their parents investigated and decided that they thought it was a spaceship that had crash landed!
w/c 06th May 2019
Our new Nursery starters have settled in well this week. The children have been making the most of the wet weather and have enjoyed jumping and splashing in puddles. Children talked about special times they have done this with their families and also about Peppa pig and their favourite characters who like jumping up and down in muddy puddles. We had some visitors on the playground who love wet weather...ducks!
w/c 29th April 2019
Before the holidays the children were interested in space so this half term we will we learning about space. We have enjoyed building space scenes in construction and also using information texts to find out information about space. Some aliens had been in the playground and stolen some numbers from out number line so we worked together to fill in the missing numbers.
W/C 01st April 2019
This week our tadpole friends have really grown! They are getting bigger each day. They will need homes for the Easter holiday so Mrs Dronfield will be sending a letter home to see who could foster a tadpole for the 2 week break. Some of our children have been watching them very closely...
W/C 25th March 2019
This week in the Early Years Unit we have been on the look out for the big bad wolf. On Monday we had a video message from Grandma telling us she had notice some strange things in her garden. On Monday we found paw prints outside and we thought it could be the big bad wolf. We made traps for him, left him letters and even made him some rice crispy buns incase he was hungry! We read the story of Little Red Riding Hood in groups, told the story to each other and acted it out in our play. Here is one of our fabulous F2 pupils retelling the story of Little Red Riding Hood alongside her storyline that she painted outside in the sunshine.
W/C 18th March 2019
This week in F2 the children have been practicing their independence by scraping their dinner plates once they have finished. The are following new rules and routines and getting ready to do more things for themselves as they get bigger and move to KS1. Sue the cook was so impressed she gave everyone a Dojo! Well done F2.
W/C 11th March 2019
This week Nursery have enjoyed the story of Doug the bug. Doug has been hiding all over the unit - both inside and out. F1 children have been looking for him and using positional language to describe where he was! On Friday the classes threw Doug a birthday Party!
W/C 25th February 2019
F2 really enjoyed learning about minibeasts this week. We enjoyed a trip to the Tropical Butterfly house in Sheffield. Some of us were very brave and held some of the insects...even the adults!
W/C 26/11/2018
This week we had a special visitor join us in class. Paddington bear got on the wrong train and ended up at Milefield. We were challenged to look after Paddington until he can go back home. As a thank you Paddington brought the children some marmalade for them to try on their toast. The children really enjoyed this treat and talked about the taste and texture of the marmalade.
W/C 19/11/2018
This week we have been reading the story 'Don't Let the Pigeon Drive the Bus!' by Mo Willems. To start our week off we all went on the school reading bus. The children had to pay the driver and get a ticket before they could get on the bus. We talked about where we wanted to go on the bus and how long we thought it would take. Back in class we printed photos off from the bus and children had the opportunity to write about their visit.
W/C 12/11/2018
This week we have been reading and learning the story 'You can't take an Elephant on the bus', written by Patricia Cleveland-Peck. In maths we have been weighing objects in our hot air balloons just like the hippo in the story, we have helped the centipede after he broke apart from falling with his roller skates and ordered the numbers back together and we went on our own trains with the tiger learning all about o'clock.
We have been role playing in our travel agents and writing lists for what we need for our holiday and making our own passports. Mrs Dronfield brought in some special Lightning McQueen cars and the boys have loved playing with these.
Friday was Children in Need day and we could come to school dressed in spots or something blue. We helped raise lots of money. We had such a fun day finger painting spots on Pudsey and designing our own Pudsey Bear.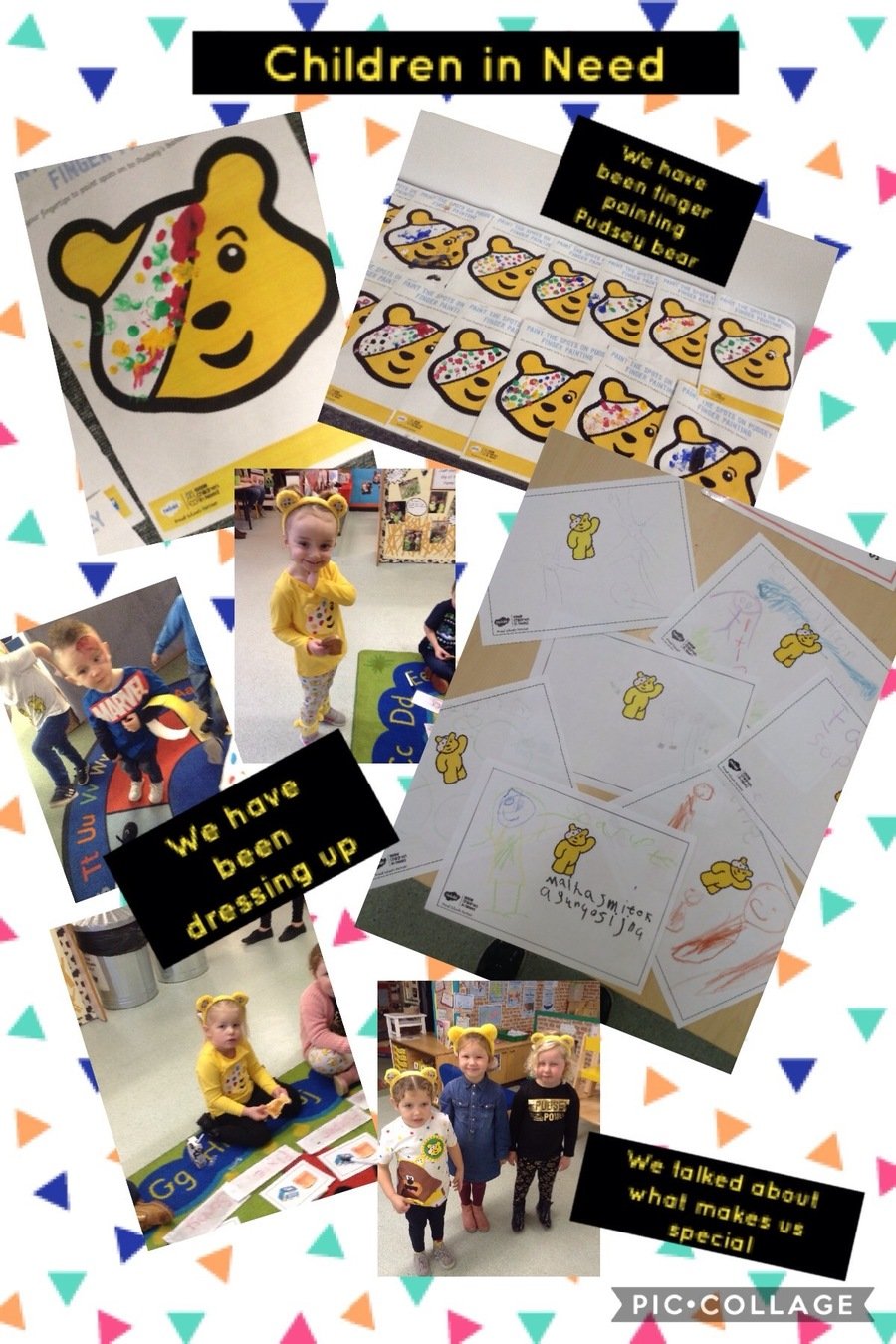 W/C 05/11/2018
This week we have settled back into school well after our week off. Our new topic we are learning is about transport. We went transport spotting on the school field and tallied what vehicles we saw and how many. We have also been learning all about road safety and have had some special visitors in school to talk to us about how to stay safe.
This week we also had a special assembly all about remembrance day and why we wear poppies. Miss Beckingham was really kind and brought in some war memorabilia for us to look at and try on. We then made our own poppies and put them on display.