Welcome to the EYFS class page. Take a look at what we have been learning and let us know what you think.
W/C 26/11/2018
This week we had a special visitor join us in class. Paddington bear got on the wrong train and ended up at Milefield. We were challenged to look after Paddington until he can go back home. As a thank you Paddington brought the children some marmalade for them to try on their toast. The children really enjoyed this treat and talked about the taste and texture of the marmalade.
W/C 19/11/2018
This week we have been reading the story 'Don't Let the Pigeon Drive the Bus!' by Mo Willems. To start our week off we all went on the school reading bus. The children had to pay the driver and get a ticket before they could get on the bus. We talked about where we wanted to go on the bus and how long we thought it would take. Back in class we printed photos off from the bus and children had the opportunity to write about their visit.
W/C 12/11/2018
This week we have been reading and learning the story 'You can't take an Elephant on the bus', written by Patricia Cleveland-Peck. In maths we have been weighing objects in our hot air balloons just like the hippo in the story, we have helped the centipede after he broke apart from falling with his roller skates and ordered the numbers back together and we went on our own trains with the tiger learning all about o'clock.
We have been role playing in our travel agents and writing lists for what we need for our holiday and making our own passports. Mrs Dronfield brought in some special Lightning McQueen cars and the boys have loved playing with these.
Friday was Children in Need day and we could come to school dressed in spots or something blue. We helped raise lots of money. We had such a fun day finger painting spots on Pudsey and designing our own Pudsey Bear.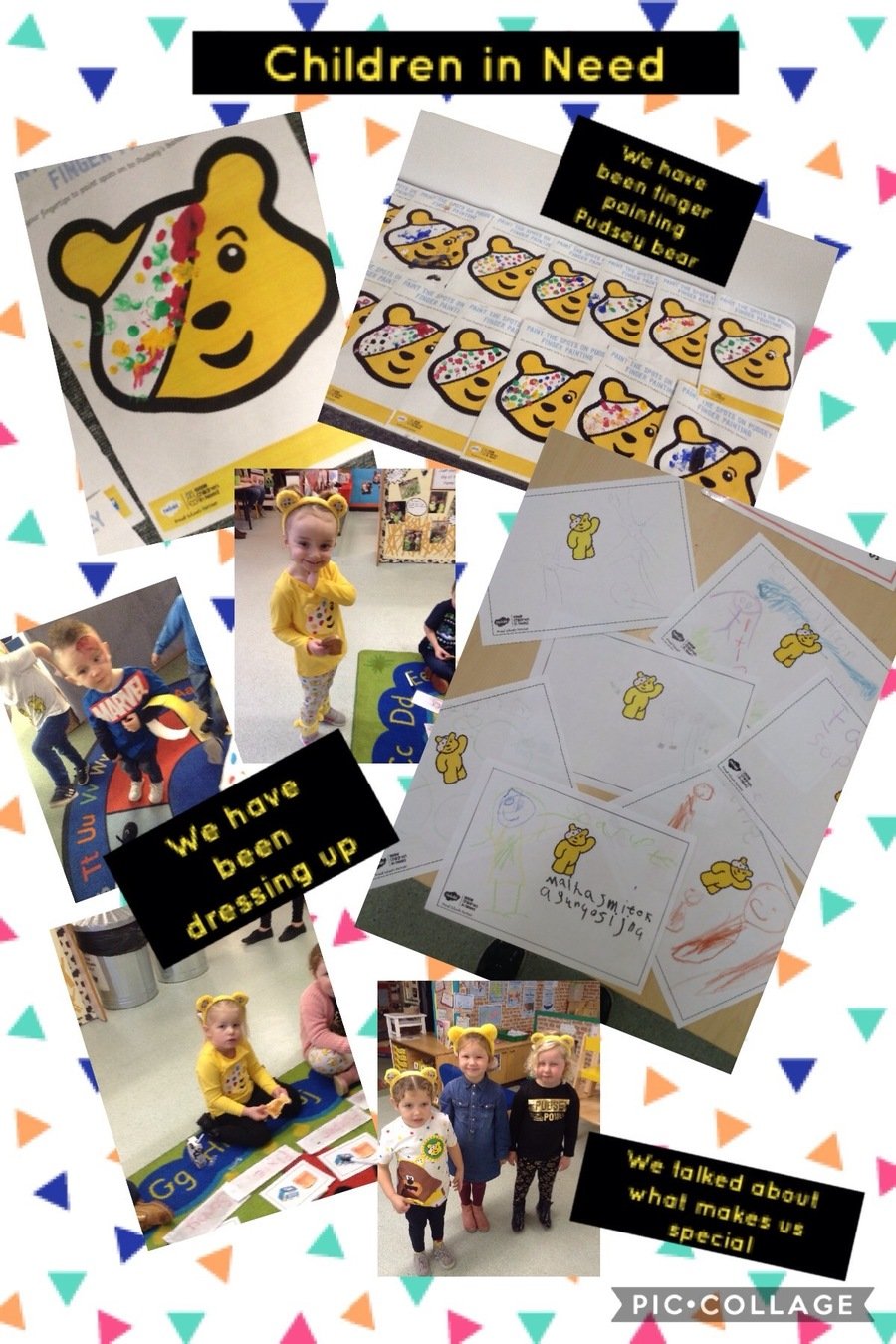 W/C 05/11/2018
This week we have settled back into school well after our week off. Our new topic we are learning is about transport. We went transport spotting on the school field and tallied what vehicles we saw and how many. We have also been learning all about road safety and have had some special visitors in school to talk to us about how to stay safe.
This week we also had a special assembly all about remembrance day and why we wear poppies. Miss Beckingham was really kind and brought in some war memorabilia for us to look at and try on. We then made our own poppies and put them on display.