School Meal Pilot
The new School Meal Plan was based on extensive research conducted within school and nationally. The new dinner provision is supported by the success of the school meal pilot which was conducted in May/June 2014. The new School Meal Plan provision aims to support parents/carers:
to ensure their child is eating healthily throughout the school day

to reduce family food costs/bills which will ease pressure on family budgets

to educate their child, along with school, about healthy eating and diet

to help their child to develop positive eating habits

to present your child with opportunities to experience a wide variety of different foods

to improve their childs health, attainment and behaviour through better nutrition and socialisation
To support the decision making process, in May/June 2014, the school meals pilot was conducted with 7 large working families in school. Children from these families accessed the School Meal Plan over a period of 4 weeks and during this time parents, staff and children completed a daily evaluation which included information relating to:
Behaviour

Energy

Concentration

Attitude to Learning

Sleep Patterns

Eating Habits (at home/in school)

Financial cost implications for these families
The pilot scheme had phenomenal results and feedback from all parties concerned was extremely positive.
Parents reported:
1. Improved behaviour at home
2. Improved sleeping patterns
3. Better attitudes to homework
4. Reduced food bill costs
5. More time to spend with children at home
6. Improved energy
7. Improved eating habits
Children were extremely responsive to the pilot and were positive about the food they ate; they embraced the 'traditional' school dinner and thrived on the opportunity to be part of the scheme.
Children reported:
1. Improved behaviour
2. Improvements in concentration
3. Improved energy levels
4. Improved attitudes to learning
5. Feeling happier
6. Sleeping better
7. Enjoying the Meal Plan
8. Excitement when trying the variety of foods
9. More energy for PE
10. Being able to sit & concentrate for longer periods
Staff reported:
1. Improved behaviour
2. Improvements in concentration & energy
3. Improved attitudes to learning
4. Improvements in social skills/communication etc.
5. Enthusiasm from children
6. Improved eating habits
7. Improvements in children's well-being, attitude in school, self-esteem, emotional state etc.
Following the pilot children resumed their usual eating habits and again the same information was collected. Children were disappointed to be taken off the scheme and significant differences in behaviour, energy, eating habits etc. were reported.
Pilot Results:
Concentration, Behaviour & Energy Grading whilst accessing Pilot Scheme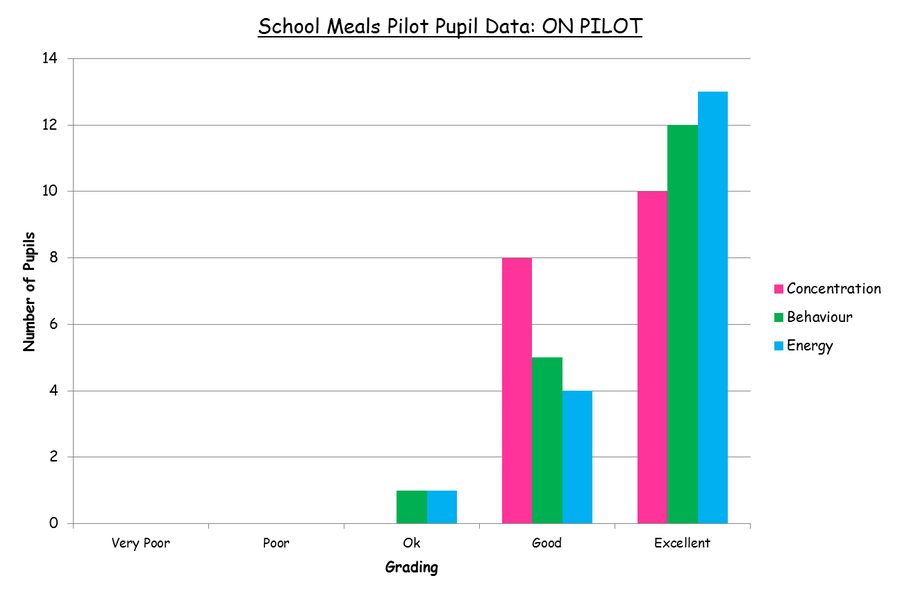 Pilot Results:
Concentration, Behaviour & Energy Grading whilst NOT accessing Pilot Scheme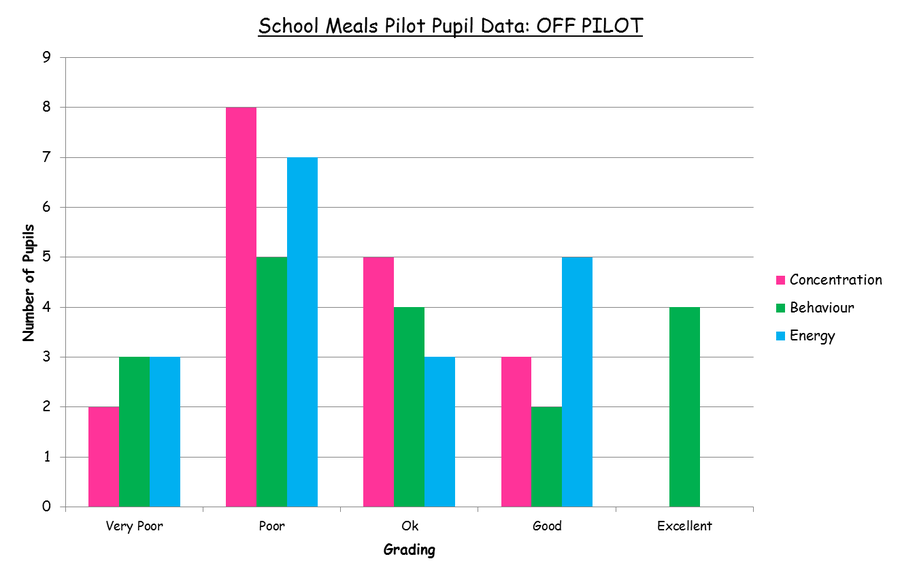 Pilot Results:
Number of Pupils who showed improvements in Behaviour, Energy & Concentration whilst accessing Pilot Scheme