Absence Hotline: 01226 710329 (Option 3)
Alternatively ring / text 07715675490
W/C 25/03/2019 BEST CLASS ATTENDANCE GOES TO CLASS 1 - 98.1 % - WELL DONE
Well done Rihanna who won our Excellent attendance prize Autumn 2018 / 2019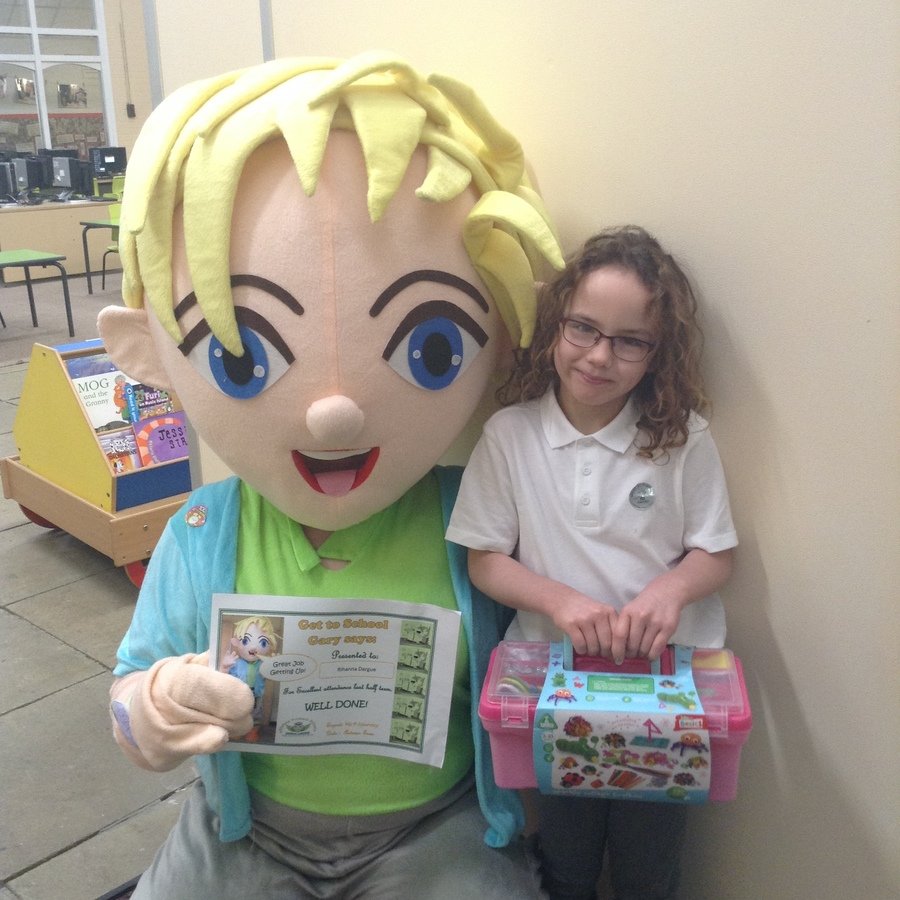 Well done Jude who won our yearly attendance STAR PRIZE . Thank you to Halfords at Cortonwood for helping out !!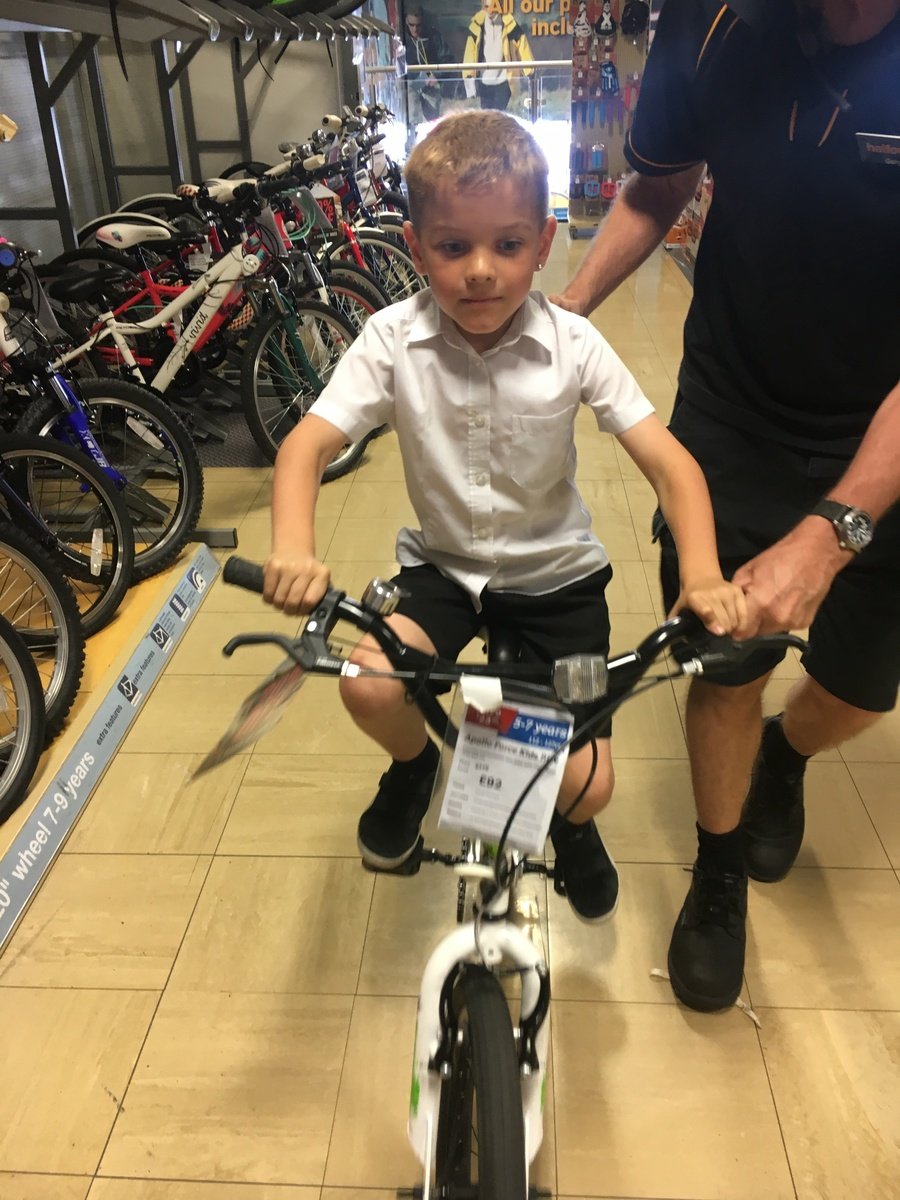 WELL DONE KAROLINA WHO WON OUR ATTENDANCE PRIZE TODAY !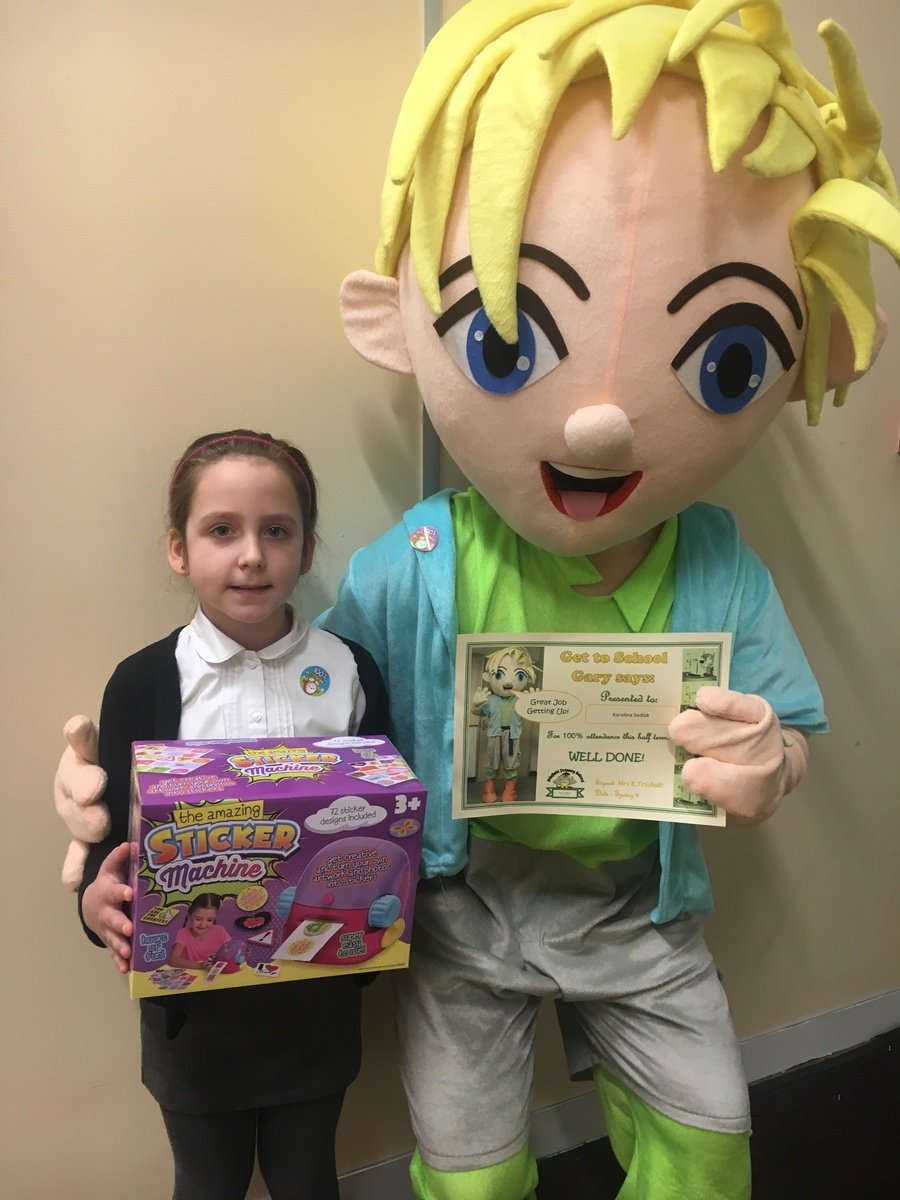 TAKE A LOOK AT SOME OF OUR LUCKY ATTENDANCE WINNERS WITH GARY . HE IS SO PROUD OF YOU ALL !!
WELL DONE TO VANESA WHO WON OUR ATTENDANCE PRIZE TODAY !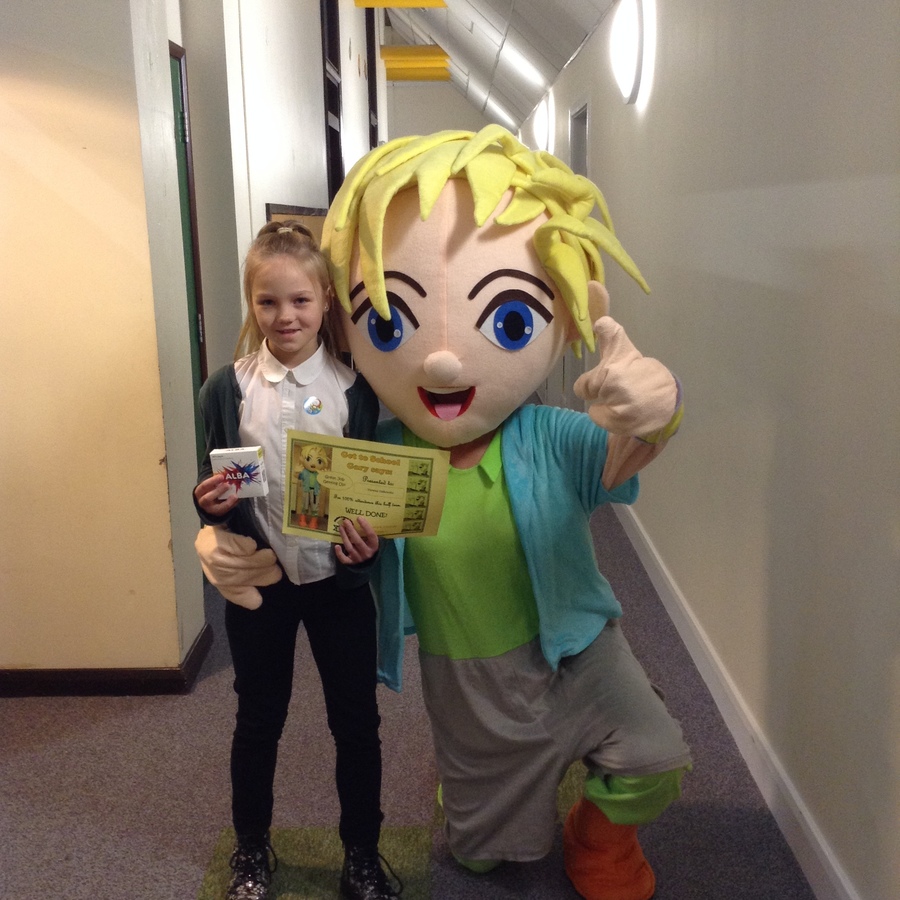 WELL DONE KEWELL FOR WINNING OUR ATTENDANCE PRIZE TODAY !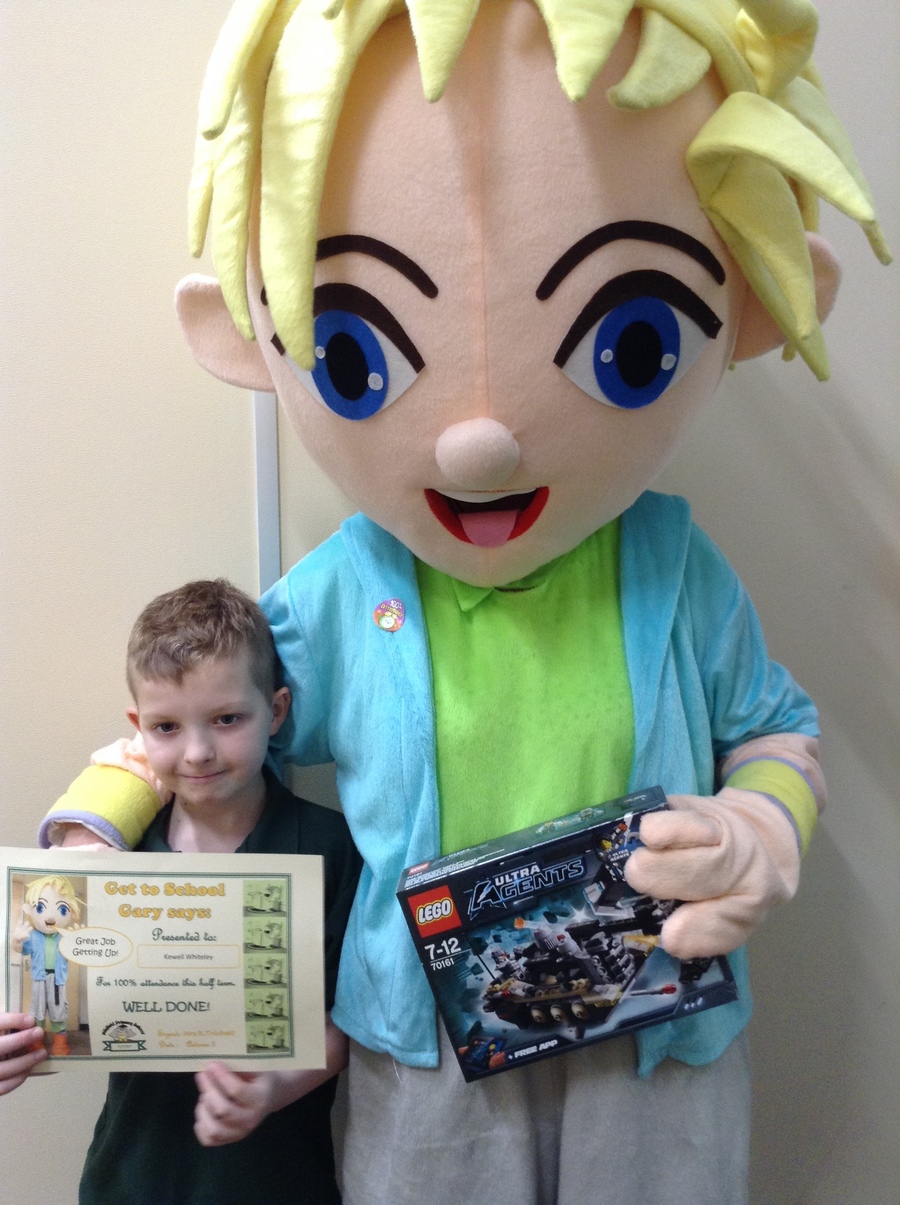 Well done to all our children who achieved 100% for the whole year. Well done to Nathaniel who won our star prize !
Attendance
Attendance Officer
Hello my name is Miss L. Jones and I am the attendance officer at Milefield Primary School.
As part of my role as Attendance Officer I am available every morning on the school playground or in the main reception to speak to parents/carers regarding concerns about their child's attendance.
Attendance is of key importance to a child's learning and development. I will be working closely with the Educational Welfare Officer to improve this. In September 2013 we adopted a big focus on attendance and have already seen an improvement, but there is however room for more, with all our efforts and commitments I am confident that we will be able to rapidly improve attendance and punctuality here at Milefield and sustain it in the future. We also introduced Get To School Gary onto our team , he regularly visits school and interacts with the children, he is present at the end of every term to present children who have achieved 100% attendance with their certificates and prizes. If you require any advice or guidance please feel free to ask and I will do my best to assist.
Why is Regular School Attendance so Important?
Milefield Primary School works closely with children and parents in connection with attendance so that each child can achieve their full potential.
By law, all children of compulsory school age (5 to 16) must receive a suitable full-time education. Once your child is registered at school, you are legally responsible for making sure that they attend regularly.
If your child fails to do so, parents/carers are at risk of getting a penalty notice or being prosecuted. In addition we also ask that parents/carers consider the negative impact of regular absence upon the following:
your child's learning

friendships

your child's self-esteem and confidence.
Milefield Primary monitors the attendance of every child in the school and ,in partnership with the Education Welfare Officer (EWO), works to support children and their families who are at risk of regular absence from school without valid reason.
Our school's attendance target for 2018/ 2019 is 96%.
Together we can achieve it!!
Timekeeping
Timekeeping/punctuality is extremely important in your child's education.
If your child is persistently late then they are at risk of missing out on vital learning opportunities at the start of the school day, session etc.
Below are details in relation to school start and finish times for your information;
Morning Nursery starts at 8.45am and finishes at 11.45am

Afternoon Nursery starts at 12.15pm and finishes at 3.15pm

The main school day starts at 9.00am and finishes at 3.15pm.
Children should be in school and ready to learn at the above start times!
Reporting Your Child Absent
If your child is absent from school we ask that parents/carers contact school (as a matter of importance) using the contact telephone number/absence hotline (located at the top of the page) to speak directly to our Attendance Officer or leave a message.
If we do not receive a message an automated text message will be sent out requesting parents/carers to contact school. If parents/carers are unable to provide a valid reason for your child's absence then the absence will be recorded as unauthorised. Attendance sweeps and home visits will be carried out weekly where necessary.
Attendance letters and Texts are issued to parents/carers throughout the year .These provide parents/carers with details regarding their child's current attendance. Letters are colour coded using a traffic light system to indicate pupil attendance: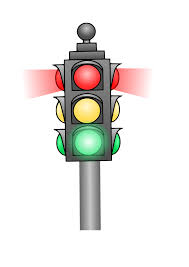 GREEN: 95%- 100%
AMBER: 91%- 94.9%
RED: 90% or below
Termly Prizes: Excellent Attendance
Each half term all children that have achieved Excellent attendance will receive special recognition in an attendance awards assembly. Children will receive a certificate presented to them by Get to School Gary:
In addition, one lucky child will be chosen (random raffle selection by a parent present at the assembly) to choose a special prize from our attendance awards cabinet which is situated in our main reception, along with one lucky parent of a child with excellent attendance, who will also receive a prize.
Early Bird, Late Gate and Late Monitoring
Miss Jones, our Attendance Officer, is present on the playground every morning and is available to answer any questions or queries regarding attendance.
Doors open at 8.50am every morning and will close at 9am, any children who arrive at school after this time will have to enter school via Main Reception.
A log of any children who are late is them made and parents/carers are contacted regarding this matter.
Important Information in Relation to Attendance
(Sent out to parents July 2013)
HOLIDAYS DURING TERM TIME-IMPORTANT INFORMATION
The Government has implemented new legislation effective from 1 September 2013 which means that no requests for holidays can be authorised except in exceptional circumstances.
Guidelines to what can be defined as exceptional circumstances are:
Where it is company/organisational policy for an employee to take leave at a specified time in the year and there is no opportunity for a family holiday in school holidays.This must be supported by documentary evidence from the organisation.

Service personnel returning from/scheduled to embark upon a tour of duty abroad.

Where a holiday is recommended as part of a parent or child's rehabilitation from a medical or emotional issue.Evidence must be provided, from qualified professionals, such as a doctor.
When a parent/carer wishes to apply to take their child out of school during term time they must complete a leave of absence form which should be submitted to the school at least 4 weeks before the proposed start of absence.
Please be aware that school is not longer able to authorise any holidays during term time and if parents/carers choose to take their child out of school a Fixed Penalty Notice will be issued by the Local Authority .
If parents/carers are issued with a fixed penalty Notice, the penalty is £60 per child/per parent or carer when the payment is made within 21 days. After 28 days this will increase to £120.
Failure to pay within 28 days will result in a summons to appear before Magistrates court on the grounds that the parent/carer has failed to secure their child's regular attendance at school.
Please note that a separate Fixed Penalty Notice will be issued to each parent for each child and all monies are payable to the Local Authority.
The school policy regarding term time holidays has been revised to take into account this new legislation. A copy of the policy along with the relevant leave of absence form, can be collected in person from reception.